Meditation is the cornerstone of The Compassion Center. The founder of The Compassion Center, Dan Globus, believes so much in the value of meditation, he created The Compassion Center for the people of Staten Island so that they could discover how meditation can dramatically improve the quality of their lives.
What Do Our Meditation Classes Cost?
Our Group Meditation classes are By Donation. The suggested donation amount is $20, but you can pay whatever amount you wish. If you are unable to pay any amount due to financial hardships, you are still most welcome. We will not turn away anyone due to their inability to pay. If you have never taken a formal Vipassana Meditation class, before you come to the first group class, please take one of our Introduction to Meditation classes. View our current Meditation class schedule.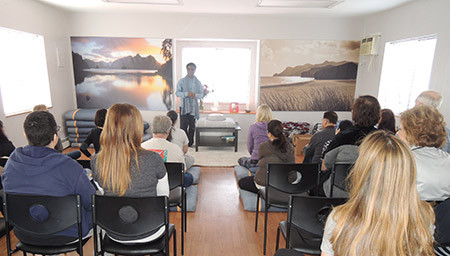 Our Current Meditation Classes Schedule
Our Meditation class schedule is updated on a regular basis based upon the days and times that people want classes and is always available on our home page as well as on our calendar of events page. If you are a small group or prefer Private Meditation Classes, please click here and schedule a class for any day and time that you would like a class.
What Type of Meditation Do You Teach & What Can I Expect?
There are different methods to meditate. The type of meditation that we teach is based upon Tibetan Buddhist Meditation, Vipassana Meditation and Mindfulness. This is a guided Meditation where you start by sitting comfortably. For some, this will mean sitting on a meditation cushion in a cross legged posture. For others, this will mean sitting on a chair. The exact way that you sit is not absolutely essential (even though using proper posture in either seated positions will allow you to deepen your meditation). We use a combination of breathing exercises and guided imagery to help you to enter into the Meditative state.
When practiced on a regular basis, Meditation can dramatically change and improve your life in the following ways:
Reduce stress and anxiety.
Reduce and eliminate depression.
Assist and bolster substance abuse recovery.
Reduce and eliminate the anger and aggressiveness we have and show to others.
Help us to better cope with the loss of a loved one.
Allow us to show loving kindness to others.
Allow us to show compassion to others.
Help us to fall asleep faster and sleep more deeply.
Overcome compulsive behavior.
Become more confidant and achieve our goals
Our Meditation classes are completely non-religious and any person from any faith can attend these. For those who have strong religious faith, they can utilize their religious beliefs to strengthen their Meditation practice.
Meditation Class Descriptions
The goal of each class is to provide a regular meditation experience that will allow you to deepen your experience. It is a guided meditation that will relax you, allow you to focus on issues that you wish to address, and allow you to build loving kindness and compassion to others as well as yourself.
You may utilize our beautiful high quality Zabuton and Zafus or sit in standard chair with back support. Our goal is to help you to get into the most comfortable position possible so that you can sit as still as possible and just relax.